The mining sector is a strategic market and is vital for the Democratic Republic of Congo (DRC). The country has mineral resources which are unmatched in the world: it is Africa's largest producer of copper and the world's biggest producer of cobalt. The economic impact of mining accounts for more than 25% of GDP. Over the years, numerous multinational companies have established themselves in the DRC and have contributed to the development of real value chains.
Extractive industry value chains are connecting mining with other sectors. Their development is also shaped by the availability of local financing. In the face of exponential growth in demand for the minerals needed for batteries, financing needs are increasing both for exploration and operating companies.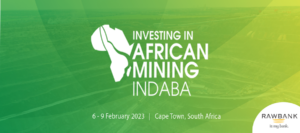 Rawbank's strategy for accompanying the mining sector rests not only on its expertise concerning the challenges faced by the sector, but also on the relations of confidence with its historic clients, with whom the bank has worked since they began operating here. These factors enable the bank to bring real support to the sector's whole value chain, with major capacity to provide short and medium term credit to mining operators. This is further backed by access to our cash management and digital banking services and free transfers between Rawbank clients.
Rawbank makes modern digital management of mining accounts a strategic element of its banking offer. The bank's digital services simplify financial operations and benefit the whole mining ecosystem, notably through interfaces such as Optimus, Rawbank Online or SIOP. The latter, for example, allows mining companies to manage and automate their transactions directly from their information systems, without any intervention from the bank. This is a real saving in time and therefore money for mining companies with a centralised treasury outside the DRC.
Compliance Demands
The DRC in 2022 had a high general score of 85.5 points in the application of the 2019 EITI standard on mining transparency. The overall score is an average of the score of three components, comprising engagement, transparency and impact. In transparency, the DRC achieved an average score (78 points). Aware that a lot of progress is still to be made in the transparent management of the extractive sector, in aspects such as the signing of opaque contracts, non-disclosed transactions and the lack of judicial proceedings, Rawbank has put in place an uncompromising policy in terms of compliance. This is indispensable for handling financial activity in the mining sector.
Transparency and compliance are essential not just for the bank, but for the country, which in 2022 published nearly 200 contracts and documents signed with Chinese companies for the exploitation of Congolese resources.
As the leading partner of the DRC's mining industry, Rawbank will be present at the 2023 Mining Indaba Forum in Cape Town.