Rawbank, the leading commercial bank in the Democratic Republic of Congo, delivered a first batch of material to the Goma Volcano Observatory (GVO) on February 8. The batch consisted of five antennas with accessories and five receivers designed to measure anomalies in the ground. The equipment was handed over by Rawbank deputy managing director Christian Kamanzi to OVG managing director Adalbert Muhindo, watched by a group of the institution's staff.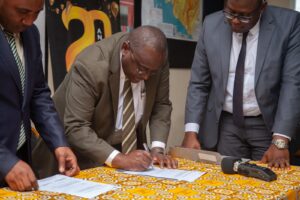 This support from Rawbank comes after a protocol agreement signed in 2022 between the two parties at the first international conference on the management of Virunga and Nyiragongo volcanoes which ran from 19 to 21 March 2022 in Goma, the provincial capital of North Kivu.
Through this protocol, Rawbank agreed to supply equipment to OVG to help the service carry out its mission of surveillance of seismic activity and the mitigation of its effects in the zone.
Rawbank plans to supply OVG with equipment with a total value of US$100,000 by the end of March 2023.