As part of its corporate social responsibility strategy, Rawbank, in collaboration with the Rotary Club, inaugurated the borehole of EP 1 and 4 Mombele school in the commune of Limete. The ceremony took place on Thursday, 23 June 2022, in the presence of the school's staff and students, members of the Rotary Club and the Rawbank delegation led by its Deputy General Manager, Christian Kamanzi.
From the beginning of classroom visits, Rawbank has heard many of the grievances of these young people who want to learn in good environments.
At the end of this visit, it was time to open the symbolic curtains to inaugurate this borehole. This work will certainly alleviate the water shortage faced by this school, which is divided into two sections, namely EP 1 and EP 4, with a total of more than 3,200 children. The boreholes are also solutions for the population of this district.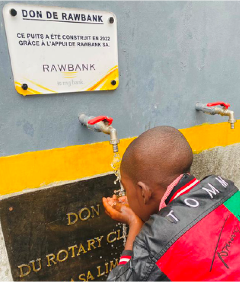 For the managers of this school, this provision is a saving grace, a relief for all the inhabitants of this district, and for the children who had not had access to drinking water for many months. This borehole makes them safer from water-borne diseases and facilitates hand washing, which is one of the barrier actions against Covid-19.
.
Also present at the inauguration, the Montfortian missionary, Father Frédéric Bolumpo, saluted the benefactors for their concern with the development and promotion of human capital.
Built in 1966 by Father Paul, parish priest of Saint Felix, this school was bequeathed to the brothers of Saint Gabriel in 2006–2007 to complete construction work under the auspices of Cardinal Laurent Monsengwo.
The revitalization realized through this drilling is the fruit of collaboration between the GBC company and Rawbank, which has left its mark throughout the capital, notably in the Camp Luka district in the commune of Kintambo as well as the Badara district in the commune of N'sele.
The amicable atmosphere left the beneficiaries moved with joy.